Storage Tips
04/09/20 5:17:30 AM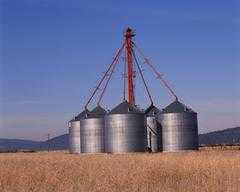 Grain Bin Safety Tips

As you empty your grain bins, remember Simon's Grain Bin Tips ...

Break up surface crusts from the outside of the grain bin by using a wooden or plastic pole or a weighted line.

Wear safety belts with properly fastened life lines that will keep you above the stored grain in case of a fall. Never stand on top of stored grain.

Never enter grain bins alone, always have someone on the outside to get help, if help is needed.

Never load or unload grain bins while a worker is inside.

Turn on ventilating equipment.

Remember Safety First !!!